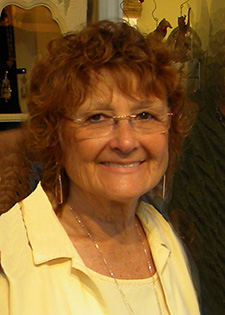 In 1990, Terry (Teresa) moved to the Northern New Mexico village of El Rito. She had spent the previous 10 years living in Santa Fe and had developed a real love for the art of the ethnic southwest. When she moved to El Rito, she realized that this artistic spiritual expression was alive and well. Having spent her life as a working artist, it was not surprising when she suddenly found herself inspired to develop her own version of this rich tradition. Nor was it surprising when she began to involve her son, Lorenz, because family involvement is traditional as well. As the years passed, it was obvious that Lorenz shared her delight in this process and together they have developed the rich array of artwork available here.
Today, if you wish to visit Teresa and Lorenz you will find them, along with other members of this artistic family, still in the Southwest. But now they all are living and working in the lush riparian Verde River Valley. If you can't find them in their studios along the river, you just might find one or two of them keeping shop in their gallery located on Main Street in the heart of historic downtown, Camp Verde, Arizona. Their shop/gallery, appropriately named Main Street
Studios, is filled to overflowing with creations reminiscent of the old and new southwest created either by Teresa and Lorenz, the "Teresa del Rito" portion of the shop, or Charlie and Justin, who make up the "Charlie Favour" part where you can find unique silver and turquoise jewelry and beautiful leather work.