Crosses
At the heart of old ethnic Southwestern traditions, we find the Cross. Some of these crosses are traditionally European, some reflect the region itself and some are beautifully Primitive. All our handcrafted, cross ornaments are original to us but honor this antiquity. Our handworked, coppery-textured, tin serves as the format for the entire collection.
Jewelry
Our handworked, rustic-textured, black plate steel serves as the format for our jewelry collection. Every item is lined in leather. Because of this, our natural and earthy Ranch Style Cuffs, fit beautifully and feel luxurious. We use turquoise, sterling silver, lapis, spiny oyster and many, many other intriguing materials to create this completely unique and most remarkable medley of work.
Ornaments and Wall Art
Whether these uniquely handcrafted tin ornaments capture your imagination for the celebration of Christmas or become a keepsake or a gift, their ethnic Southwestern themes and their textured-coppery quality, give meaning to their beauty.
Hearts
Hearth and Home is a fundamental aspect of old ethnic Southwestern life. So it is no wonder that the Heart is a symbol found everywhere. Our collection of hearts fashioned from textured-coppery tin and embellished with tiny colorful beads and wonderful vibrant Washi papers reflect this soul-filled tradition.
Saints
The old ethnic Southwestern traditions include lots of images of Saints, some traditionally European and some beautifully Primitive. All our Saint Images are original to us but honor both genres. Our hand-worked coppery-textured tin serves as the format for all.
New Creations
The most exciting thing about what we do is the ever present opportunity to use our imaginations. We are always creating new designs and sometimes completely new products. In this category you will find our newest creations, often they will be one of a kind. If you wish, you may purchase them as we design them.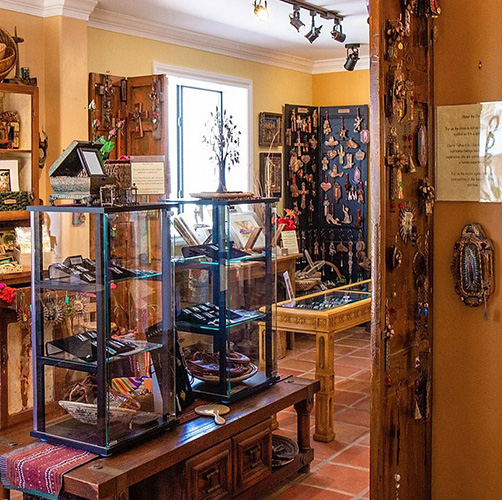 Main Street Studios
Our shop / gallery in Camp Verde, Arizona is filled to overflowing with creations reminiscent of the old and new Southwest. Every item is lovingly handcrafted. There is the "Teresa del Rito" portion of the shop where you can find the items pictured on this site and much more. There is also the "Charlie Favour" portion where you can find unique silver and turquoise jewelry and beautiful leather work created by either Charlie or his son Justin.
The shop / gallery is located at 365 S Main St, Camp Verde, AZ 86322