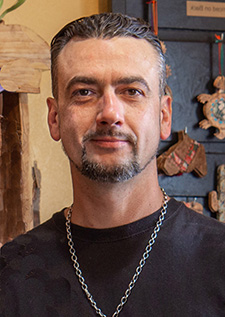 Lorenz has been involved in the artistic production of the Teresa del Rito company since he was 13 years old. It started in 1993. That year, a very large order from a prominent catalogue was too much for Teresa, his mother, to process alone. She asked Lorenz if he would split the work with her and she, in turn, would split the rewards with him. Since that time Lorenz has increasingly contributed to this ever growing artistic business. His innate love for this rich tradition, and his own extraordinary artistic talents, has now made him the major contributor. Today, he also heads the business.
Today, if you wish to visit Teresa and Lorenz you will find them, along with other members of this artistic family, still in the Southwest. But now they all are living and working in the lush riparian Verde River Valley. If you can't find them in their studios along the river, you just might find one or two of them keeping shop in their gallery located on Main Street in the heart of historic downtown, Camp Verde, Arizona. Their shop/gallery, appropriately named Main Street
Studios, is filled to overflowing with creations reminiscent of the old and new southwest created either by Teresa and Lorenz, the "Teresa del Rito" portion of the shop, or Charlie and Justin, who make up the "Charlie Favour" part where you can find unique silver and turquoise jewelry and beautiful leather work.