Dear Friends,
We are very excited to introduce and welcome you to our new website – teresadelrito.com!
When you visit the site you will find whole categories of our products that were not on our previous site. For example, we now have a category called Designer Crosses. Lorenz has developed this group of crosses over the last couple of years. The two pictured here are the Celtic Wood Cross and the Lily Wood Cross. They both have a dual color theme with the back and sides one color and the front another.
Lorenz incorporates our extraordinary imported papers that he skillfully infuses with one of our coppery/gold techniques to create two very striking and alluring pieces of artwork. Also relatively new is the three dimensional lily that you see adorning the front of one. Both flowers that you see below were originally designed by Lorenz. The Rosette has been a big part of our collection for a number of years and we are pleased to now add the lily which is proving to also be very popular. Almost all of the crosses in this category have the distinct cut wood characteristic unlike many of our other products that we create from found materials.
[space ]
Both Lorenz and I are pleased to now be able to offer a much wider realm of our artwork to you via this new site. Because of its fluid nature, we will constantly be able to show you new products as we design them and we can even offer you our "one-of-a-kind custom" designs that you can see and purchase directly from the website.
Again, welcome! We look forward to serving you.
Teresa and Lorenz
TeresadelRito.com
[space ]
[two_fourth class="" last="no" ]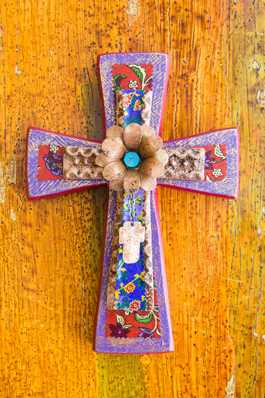 [/two_fourth]
[two_fourth class="" last="yes" ]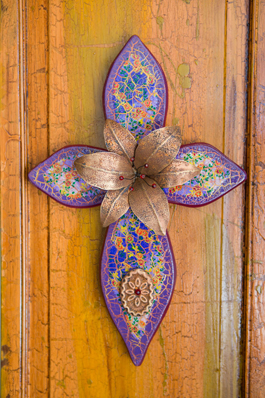 [/two_fourth]